ADALU
Adalu Began in Italy in 2015 by Valeria Donati. She started surfing at age 23 and immediately noticed there was a real problem in the surf scene- The surf wear! So she took the Italian tradition of hand-crafting quality products from her grandmothers and began creating this beautiful company we see today.
With more women in the water, there should simply be more options for surf wear. Valeria created styles that were comfortable, feminine and flattering for female longboarders.
Their website states: ORA ADALÙ® IS THE FIRST SURFWEAR ITALIAN BRAND, WHICH PRODUCES IN RESPECT OF THE ENVIRONMENT AND LINE WITH ITALIAN HIGH QUALITY TRADITION.
There's no question of this. Each piece is sewn using the highest quality materials, and holds up well in the ocean. Everything is either reversable or lined, and is perfect for mixing and matching.
Aleria is the designer and creative director, who has a keen eye for detail on the women's longboard market and follows the product from creation to launch. She also states that it doesn't matter if you're an athlete or a surfer, having attire that acts as a second skin is important.
My Adalu pieces have become some of my favorite, and I never fail to get my quota of compliments when wearing these surf suits to the beach.
Pricing: Affordable! The entire Avocado Leggings/Top set costs around $95. The Malubu Summer One Piece is around $100, and the Sunset Cliff Mermaid One Piece is around $90.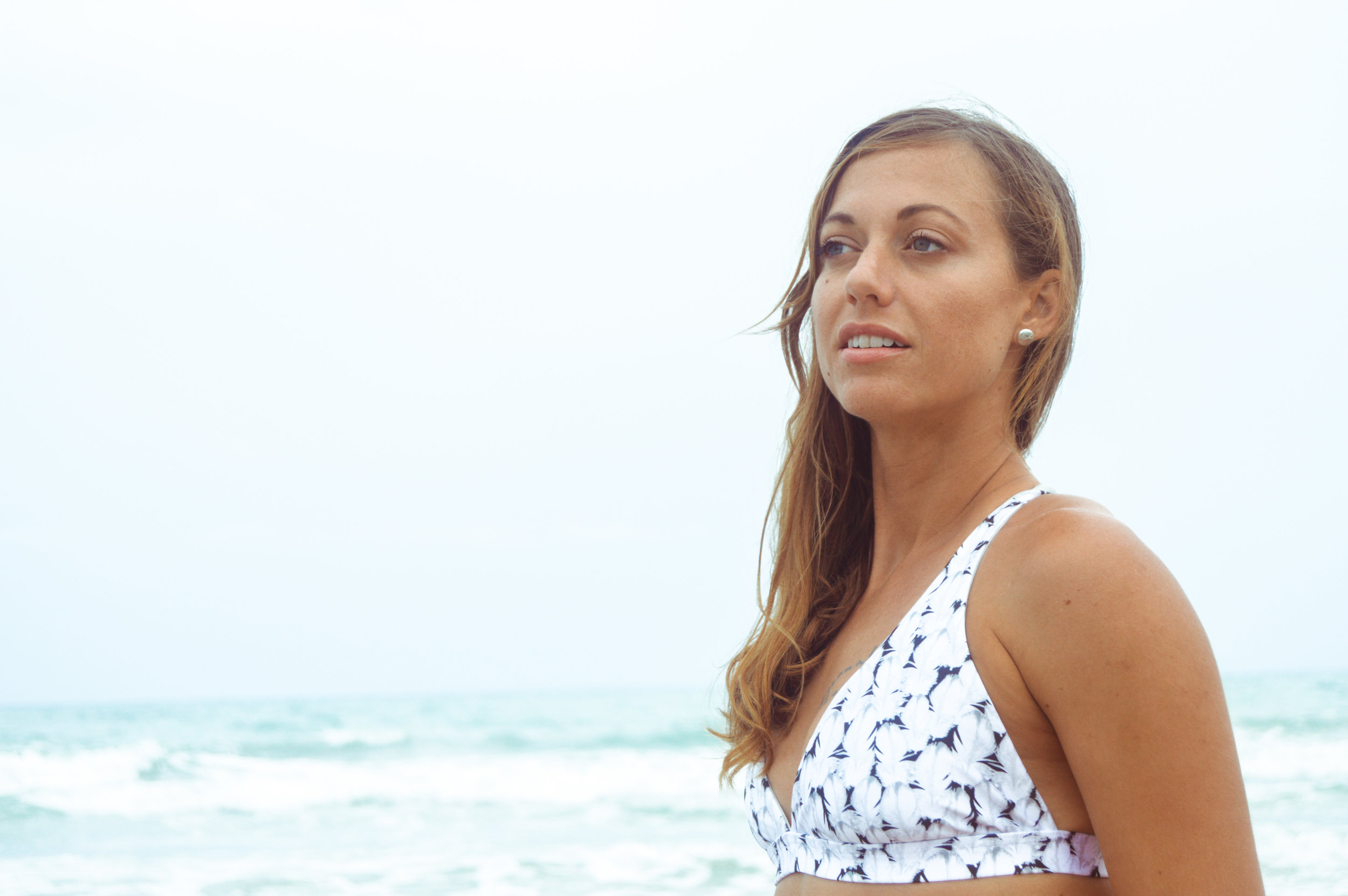 MI OLA
SEXY BIKINIS THAT STAY ON
Helena was a high-fashion designer that traded her heels for flip flops and moved to Costa Rica to surf, but like many women, found that quality surf bikinis were difficult to find, especially in Central America. So she began Mi Ola.
The company creates a sexy suit that stays put in the water, using the best materials possible, which includes UPF 50 fabric, and occasional brass embellishments that won't flake or chip, when needed. Each piece of each suit has been surfed and tested by real surfers in real waves, and is MADE IN THE USA! The cut and fit of each suit is specifically designed to hold on while in the waves, with some bottoms even having an elastic drawstring in the waistband that rests on the side. This is not your average bikini!
There is a 90 day return policy, provided the suit has not been worn, so you can make sure you get the perfect fit.
Pricing: The Casita Boythong is $120 and the matching Pin Up top is $95. The Feathers Thong Tha Thong is $85 and the matching top we featured is $95.
Mi Ola's motto, "Be comfortable in your own skin. Be secure in your bikini."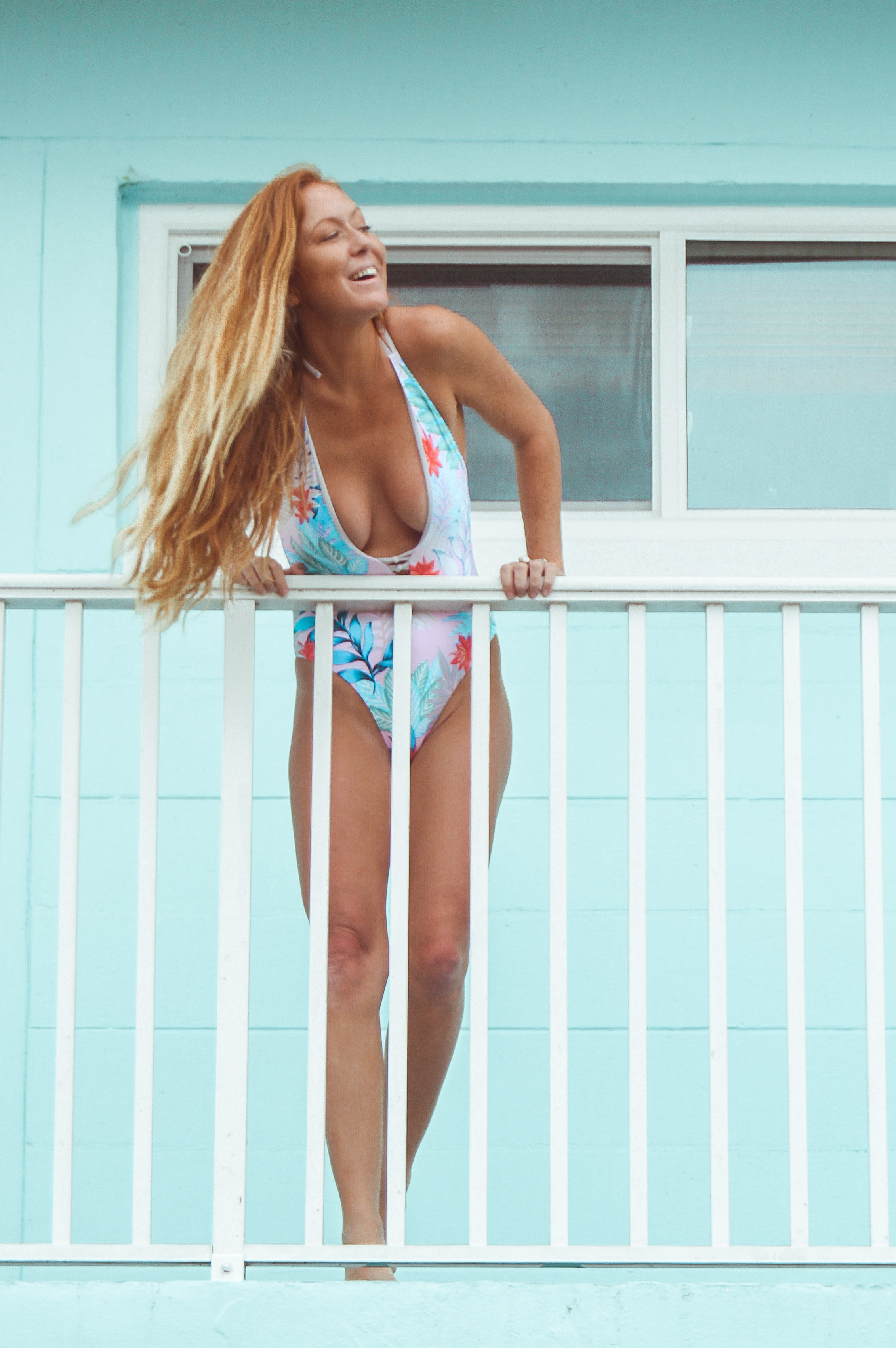 B.SWIM
"B.Swim is created for the true beach-loving girl that feels at home in the water. The prints are inspired by tropical textures and tribal aspects. The colors are drawn from natural tones and plant life of the islands."
If you desire a soft, comfortable, barely-there bikini, this is your company. My B.Swim bikinis have always been some of my favorites, mostly because of the colors, styles and comfort. They're so easy to wear, and the colors are always flattering on nearly any skin tone.
The company tends to focus on the 'teen to young adult' market, with more bralette feeling tops without the snug feeling of a true surf bikini, and without the support for bustier girls. However, the tops can hold up to around a C-cup, but without much support. Personally, I like having a bikini that allows me the freedom to let loose and still be covered!
For you surfer girls, I have found that I can surf in a few of my B.Swim bikinis but not all. For surfing, always try a size down in the bottoms, and a size up in the top, but choosing only tops that allow you adjustments so that you have more coverage, but can make it tighter so it will stay put. My B.Swim suits are suitable for smaller waves.
Pricing: Not Bad! The Lani Palm One Piece is around $104, the Lilikoi set we featured is just over $100, as is the Hana Batik set.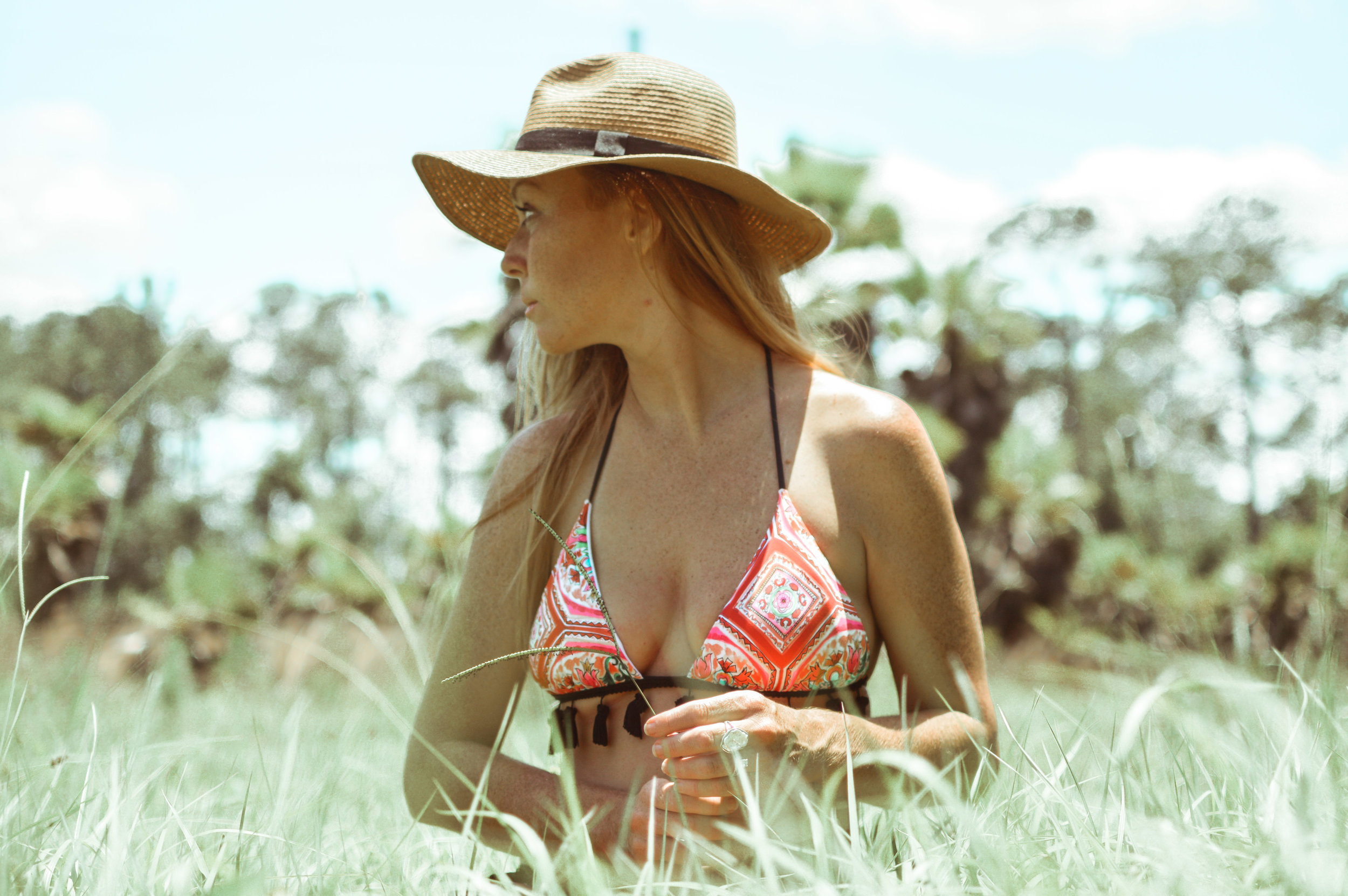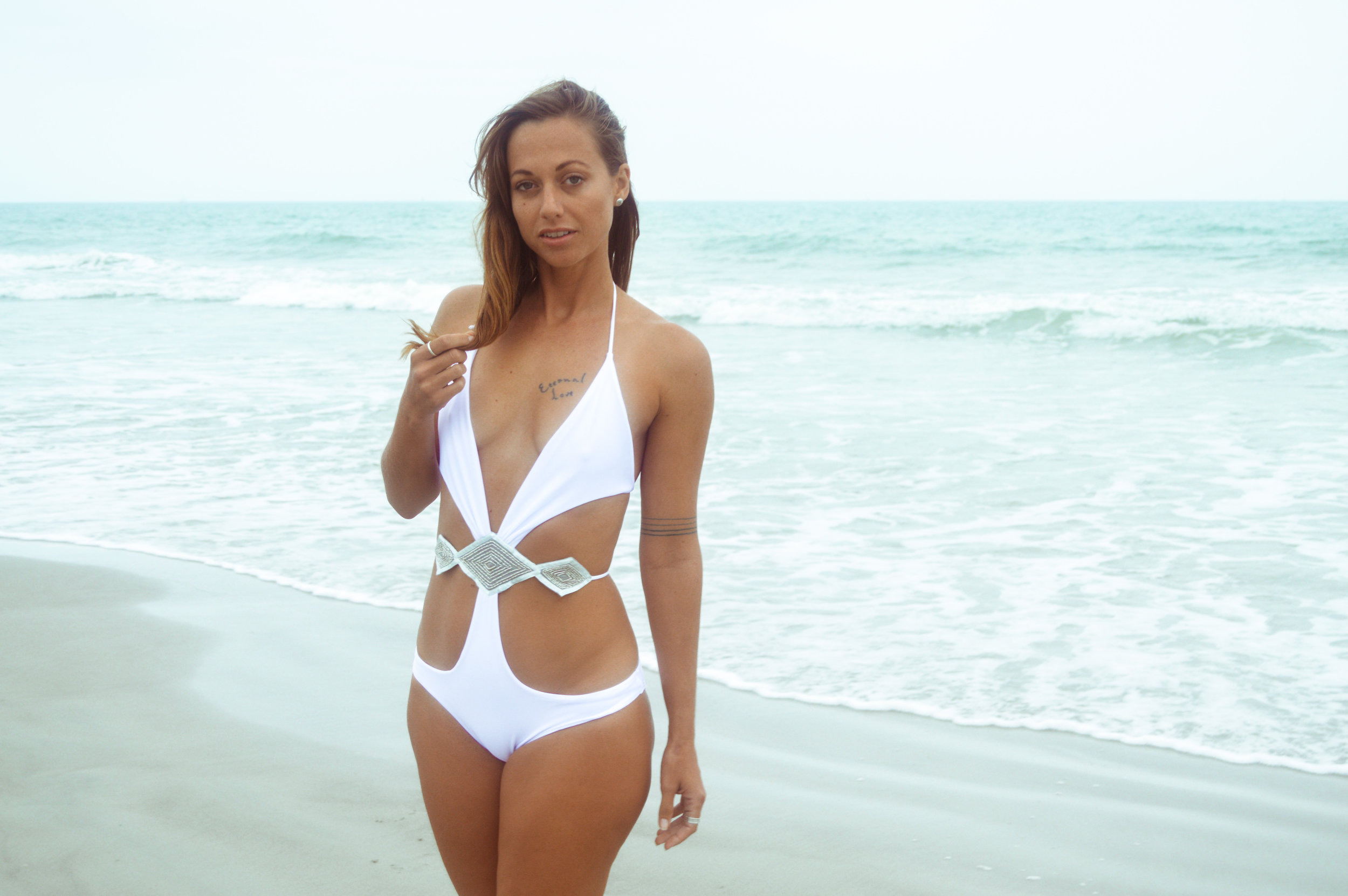 AGUACLARA
Aguaclara began in Lima, Peru in 1989, and now exports to over 40 countries. The company began as a cutom swimwear company and quickly grew to be the leading swimwear company in Peru.
Siblings Liliana and Jorge Villalobos run the company together, with Liliana as the creative director, drawing influence from the Amazon and her travels, and Jorge as executive director.
The first thing I noticed about the swimwear itself was that the quality was excellent. The fabric was thick, high-quality material, and everything fit comfortably. I felt the fits were slightly larger than expected, but perhaps not to the point of ordering a size down.
Pricing: The Redblanca One Piece is around $183, The Princessa Crystal One Piece is $199, the Redblanca Two Piece set is around $154 total, and the Porcelana set is around $173 total.
MAAJI
"Colombia, a country full of charm, beauty and diversity is the perfect back drop for the evolution of a brand with both magic surrealism and eclectic romanticism. Strongly influenced by their family`s entrepreneurship and commitment to contribute to the social development of their country, sisters Manuela and Amalia Sierra began pursuing their dream of creating a brand that would enchant us all with its unique inventiveness."
Maaji, pronounced "maa-hii", like, 'Mahi', is a purpose-driven company. That purpose: To inspire and surprise #RealMermaids. The eclectic company creates whimsical pieces, in which nearly every one is reversable, creating multiple looks with only two pieces. They're eco-aware, and host projects to clean up and preserve our beautiful planet.
Pricing: The Shiny Sky Rashguard is around $88, and bottoms can be purchased online for anywhere from $20-75.
L*SPACE
L*Space by Monica Wise has always been one of my favorite companies. The quality is excellent, the material lasts longer than any of my other suits, and there have always been a few styles in particular that were my go-to's to surfing bigger waves.
"We are a sun-kissed California Lifestyle Brand whose love of the seaside drives us daily. Our designs focus on that chic, yet unfussy coastal - cool lifestyle, making waves on and off the beach. We are the skin-baring natural beauty. The soft, sensual bikini that you covet, and the beach-chic dress that quickly becomes the go-to in your closet. We are the girls-girl who doesn't take the world around us too seriously. We invite you to Love, Laugh, Lounge and Live with us."
Pricing: The Midnight Blue Olivia top is $95, and bottoms are anywhere from $68-79.
SWOON
Swoon knows that the fashion industry is pretty on the outside, but ugly on the inside.
"Fast and cheap fashion is not environmentally friendly, exploits child labor, workers are subjected to toxic chemicals that are dumped into water ways and landfills are overflowing with yesterday's disposable garments. Unfortunately, that great deal you got on that fast fashion t-shirt for $5.99 was most likely made in a factory full of underpaid and mistreated workers."
The bikini we were sent to feature was amazing. It's soft, comfortable, reversible, and feels seamless so it doesn't pinch anywhere, creating rolls. (You girls know the rolls I'm talking about!) It's flattering! Not only that, but it's made in the USA, which is a big deal to this little company.
"You Can Make a Difference by Shopping Products Made in the USA. 4.7 million manufacturing jobs have been lost between February 2001 and February 2009. If Every American Spent an Extra 18¢ Per Day on U.S. American Goods We Could Create 200,000 U.S. jobs. Source: Moody's Analytics"
There is a range of styles and coverage, so whether you're feeling cheeky or modest, there's coverage for that.
Pricing: Pretty good! Tops run between $55-60, and bottoms are $50.
SWIM SYSTEMS
A company perfect for busty girls, Swim Systems offers cheeky to modest cuts with tops ranging in size from XS to DD. The D-DD sizes range from 34 D to 38 DD.
Julie Franco designs swimwear that creates loyal customers that come back to this company year after year to pick up their DD tops. From prints to solids, from tankinis to underwire to triangle tops, from cheeky to boyshort, Swim Systems is highly versatile and has something to please everyone. The only thing they don't seem to offer are the super cheeky and thong cuts. The Micro Hipster bottoms are about as cheeky as they go.
Pricing: The Venice Short is around $72 and the matching On Point Balboa Bralette is $70. The Captain Triangle Top is $74, and the Micro Hipster Bottoms are $72.
JOSEA
Sustainable surf bikinis from Germany.
A company that was created because it's simply too difficult to find surf bikinis that stay on, Josea does it the environmentally friendly way!
Straight off the website: "IF NATURE IS DOING WELL, WE ARE DOING WELL. IF IT FALTERS, WE FALTER TOO. WE CAN'T LIVE WITHOUT IT. IT IS OUR PLAYGROUND, AND OUR FUTURE DEPENDS ON IT ALONE. IT INCLUDES ALL OF OUR PLAYGROUNDS: OCEANS, SOILS, RIVERS, AND FORESTS."
The company created their bikinis in Germany from recycled materials using no plastic products, and creates everything on demand to avoid waste. It takes approximately ten days to sew your bikini and send it out, so allow for that time period, plus shipping from Germany.
We were sent two styles to test, and both are top quality, they fit snug, they're comfortable, flattering, and stay on in the water! They also offer surf leggings and one piece, long-sleeved surf suits. These are so supportive that you can run in them or wear them to the gym.
Pricing: The Cloudbreak top in Flamingo, as well as the Mavericks top are both around $68 each, and bottoms are around $56.
KAIKINI
Taryn Rodighiero of Hawaii did the unthinkable. After having never sewed in her life, she spent her savings on everything she'd need to create bikinis that were better for surfing than the ones she was purchasing. In eight months, she learned to successfully sew quality surf bikinis and Kaikini was born. Four months after that, they were being sold in shops in Hawaii. Now, Kaikini is the largest manufacturer of swimwear in Hawaii, and she sells all over the world.
Kaikini is also Earth Friendly and made in the USA! The company says, "We purchase all of our fabrics and thread from U.S. manufacturers and participate in the Fair Trade system, selling directly to our wholesalers and retailers. Each 'Kini is quite literally hand cut and hand made right here on Kauai, U.S.A. ...These Wahines form our KaiKini family, earning competitive wages working in a sweatshop-free and eco friendly environment. Yep, that's right, we're 'Green' too!" They go on to mentions, "At our facility, we conserve energy working by the natural light of Kauai's sun and keep cool by the kisses of her Ocean breeze. We resort to utilizing our Energy Star A/C and eco lights only when absolutely necessary. Our copy paper is made from sugar cane, never the miraculous oxygen producing entities we call trees. Soy based ink grace our hangtags made only of recycled paper. Even our packaging for shipments are reusable, biodegradable and constructed of recycled material!"
Pricing: The Wild Wahine Beaded Sport Top is $69, and the reversable Kai bottoms are $74.
PRAÏ
A new company from Portugal by the name of Praii is focusing entirely on neoprene swimwear that moves with you. Each piece is relatively simple, with only a few seams and no elastic waist bands. While it seems doubtful that it might truly hold tight, it actually does! Not only does it fit snug and stay put, it's comfortable.
Because they are so brand new, the website is still under construction so as of now, Instagram might be the best place to get a feel for the product.
The company states, "We love to surf. Having fun in the water with swimwear that adjusts to our bodyshapes and movements while staying in place is important to us. Our neoprene bikinis are made out of a flexible but strong, supporting material providing a comfortable fit. We try to combine sportive, functional design with style as best as possible."
PRAÏ STAYS PUT.
Pricing: Between 30-40 Euros each piece
FLAGPOLE
Flagpole is a New York based luxury swimwear company founded by Megan Balch and Jaime Barker in 2013. The company uses color palettes and architectural lines to empower, using the highest quality fabrics.
Quality is everything. The company uses an Italian four-way stretch material that is anti-pill, anti-bacterial, chlorine resistant and quick-drying.
The first thing that you notice about Flagpole is the sophistication. It's naturally a more mature look based on the color palette, but with designs that can flatter young and old alike. Many of the pieces have a vintage appeal to them, and they create an array of styles, such as one-pieces, two pieces, high waist bottoms, long-sleeved surf suits, and even some resort wear. The bottoms are fairly modest, so no cheeky thong cuts here.
Sizing is 'one size' for tops and bottoms. That means that when ordering, you must order the same size top as the bottom.
Pricing: The two-piece Celine suit is sold with top and bottom together for $385, and the Kelly suit is $450.
PLUM WILDE
Unique, flattering, and heavily discounted at the moment, Plum Wilde is selling off some stock of amazing little bikinis. Regardless of the sleeves on this gem, I still think that it's snug and supportive enough to surf in. There are several other styles, like one pieces and high neck tops, with a color palette of stripes, black, light pink and a low saturation tropical print that is super cute.
They say: "Plum Wilde is a dreamer with a fire for every experience. She is mindful of things bigger than herself. She is a complex thinker finding freedom through art. She appreciates all living things and lives a mindful lifestyle that brings her inner peace and happiness. Plum Wilde was started by a photographer and graphic designer who wanted to provide fashionable suits at reasonable costs. Established in 2017."
Pricing: Uh-may-ZING! Each piece is only $20 right now. Go get it!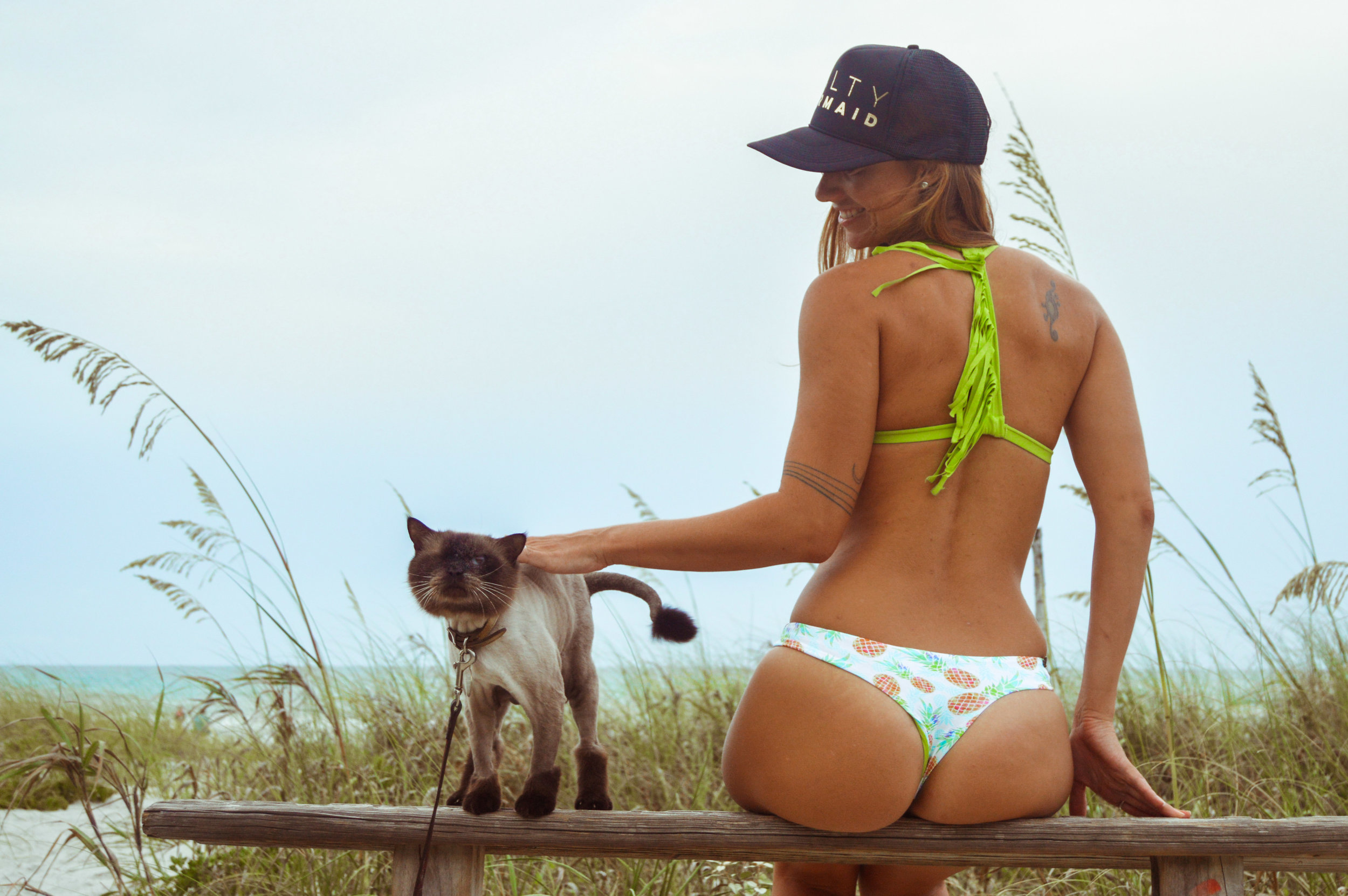 SALTY MERMAID
Salty Mermaid was created in Tampa, Florida by best bud duo Sarah Jon Porreca and Kara Versage. They had a vision to create swimwear that would empower women using the strongest and luxe fabrics.
The most obvious thing about the swimwear is the fit. The cuts are flattering and cute, yet support and cover where they need. The material is soft, but not too soft. The next thing you notice is the print. We loved the pineapples and feel our fans will too. The color palette is complimentary to different skin tones.
Pricing: We featured- SALTY N' SASSY – PINEAPPLE ME CRAZY FRINGE TRIANGLE BIKINI TOP for $65, and the SALTY N' SASSY – PINEAPPLE ME CRAZY BRAZILIAN BIKINI BOTTOM also for $65.
Malai
My first thought when trying on the Malai bikini was, "This is going to be my go-to bikini for the summer". The quality was excellent, the colors is so complimenting to my skin tone, the fit is comfortable and flattering, and it's reversible, which allows me more wear-time without getting bored with it. For this reason, it's also the perfect bikini for travel!
The brand focuses on satisfying modern, avant-garde, fresh, fun, vain and confident women. Its sophisticated bohemian style recreates a proposal that merges quality materials with innumerable prints, contrasting vibrant colors and contemporary vanguard designs. In addition to its comfortable silhouettes, MALAI can easily adapt to different body shapes.
Here is what the company had to say: MALAI is the result of the love that arises from the warm spirit and colorful beachwear. With over 10 years of experience, MALAI is dedicated to the design, production and distribution of premium swimwear and summer accessories.
Pricing: The Sea Mamba CROSSED OVER BRALETTE TOP is $78, and the Sea Mamba RUCHED BOTTOM is $48
Lime Ricki
This is a company that believes that every woman deserves to feel comfortable and confident, and feel beautiful in what they choose to wear. For so many, it can be daunting and intimidating to put on a bikini and hit the beach where so many other women have the "perfect body". But what is the perfect body anyway?! It is so important that women see beauty in themselves (and every body type!) and that they feel confident in their own skin. Lime Ricki helps us out by creating fun swimwear options that offer a little more coverage, but without sacraficing fashion. These full coverage bottoms and tops are almost reminiscent of vintage swimwear and that's something that I can easily be a fan of!
Lime Ricki offers wire free support for the busty babes, and PLUS SIZES in these crazy cute and flattering styles.
The company says, "We strive for that perfect fit. Why? Because we know when you feel cool, confident, and comfortable in a swimsuit, the world is yours ... or at least that stretch of the beach."
Pricing: Dang good! The Navy Stripe Bandeau Tankini Top is $54 and the Jungle High Waist Bottom is $34.50.
Favorite Little Corner
Crochet Swimwear and Festival Wear
Meet Valentina. She's a crafty little crochet warrior from LA who sells her creations on Etsy in her Favorite Little Corner shop.
Fourty-four five-star reviews can't be wrong. And by the looks of it, she's happy to do exchanges on pieces that don't fit, and she offers international shipping! According to Etsy, she's had 355 successful online sales since she opened her account in 2015, which is quite a number for a small business! I expect we see this company grow and flourish.
I've owned many crochet bikinis and tops in the past, and I must say, this girl has it dialed. The cup requires no elastic to create a proper and supportive fit, and the bottoms are quite flattering. I imagine that it's difficult to create the perfect fit without the typical seamstress commodities like elastic and spandex, but you can be sure that anything you purchase from Favorite Little Corner will be the best possible crochet fit on the market today. (Trust me- I have an entire drawer of ill fitting crochet bikinis and my Favorite Little Corner Bikinis are NOT going into that drawer.)
Valentina is also offering you a 10% discount code if you purchase right away. Just type in code SIREN at the checkout.
Pricing: SWEET! That crochet watermelon top is only $32!
SLIP In's SURf SKINS
Fabulous sun protection made in the USA.
Perfect for surfing, diving, snorkeling, swimming, yoga, hiking, volleyball, or anything else you'll be doing in the sun this summer!
These suits are comfortable, and they feel like a second skin. They're just thin enough to be lightweight and cool, using a breathable fabric.
These colors POP! Fun, summertime prints for any age.
Pricing: Most suits are between $120 and $150, and head bands are $15.
Sensi Graves
For girls who rip, by girls who rip.
This is company made it their mission to create a 'stay-put' bikini for all things active.
Their Values?
CREATE and awesome product. INSPIRE a healthy lifestyle. PROTECT our environment.
Using high quality fabrics from Spain, each Sensi Graves bikini style is tested. They also use recycled packaging, incorporate recycled fabrics into their suits, everything is made in the USA, and 1% is donated to environmental causes.
Pricing: The Darla top that we featured is $50, and most bottoms are around $50.
TUTUBLUE
TutuBlue was created by actress Sarah Buxton after a scare with skin cancer. She decided she wanted to enjoy the sun on her own terms, without hiding in the shade and resorting to greasy sun screens.
TUTUBLUE is a UPF50 sun-protective activewear brand designed for anything you want to do in the sun: Surf, snorkel, volleyball, tennis, run, bike...
These suits are made with high-quality, quick drying fabric that is lightweight and breathable to provide the ultimate comfort while at the beach.
Pricing: We've featured two "short suits": The Aqua Lung, and the Kaleidoscope, both $195.
SAUVAGE
California's Simon and Elizabeth Southwood began Sauvage back in 1989 when Elizabeth offered to make a pair of men's swim trunks for a friend's vacation. Since then, the couple has grown into the family business we see today.
What began as men's swimwear quickly began to include women's bikinis as well, and the company still creates both.
We've featured the Aqua Tribal two-piece suit, which is purchased as a set. But not to worry! The company allows you to customize by choosing the size of each, the top and bottom. We took notice to the high-quality fabrics and composition. The flattering colors suited Britt quite well, and the contrast of the detail will make anybody stand out on the beach.
Pricing: This bikini is $196 total.
Many thanks to everyone who made this swimwear guide possible, our helping hands, and each and every company who took part.
Tanning by Tan Cabana in Jacksonville, FL
Photography by Britt Bardez-Tedtmann, Siren Williams, and Brandon Russell
Photo Editing by Siren Williams
Blog Design by Siren Williams
Models: Britt Bardez-Tedtmann and Siren Williams